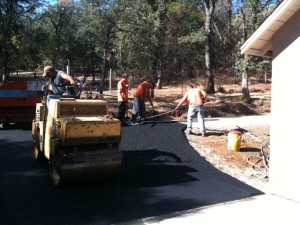 Asphalt pavement is used in a variety of different applications because of its durability, cost effectiveness, simplicity of construction, and strength. It is the material of choice for parking lots across the nation because asphalt withstands heavier loads and when combined with proper asphalt maintenance, last for many years.
In order to maximize the life of your asphalt, it is important to develop a pavement management plan involving routine inspections and ongoing preventative maintenance.
Asphalt Repairs and Patching
Patching is a common asphalt repair on areas of pavement with potholes. Potholes occur when water seeps into pavement through unsealed or improperly sealed cracks. Asphalt repair consists of filling the affected areas with asphalt mix.
Asphalt Removal and Replacement
As asphalt pavement progresses through its performance life cycle, its appearance diminishes over time. Fine hairline cracks spread and deepen within the asphalt. Without ongoing maintenance, water may enter through cracks and holes may form, undermining the sub grade. In this case the most effective form of repair is to remove and replace the deteriorated area. This process consists of several important steps to ensure that the repair is performed properly.
Asphalt Resurfacing
Asphalt resurfacing is an option in more severe cases of asphalt failure. A long term and cost effective solution is to resurface the asphalt pavement with an overlay. This process consists of several steps. A petromat fabric is used between the existing asphalt and newly laid asphalt.to help retard reflective cracking and also acts as a waterproofing membrane and adds structural support and strength to the pavement. Then a new layer of asphalt paving is applied on top, creating a new long-lasting parking lot, driveway or road surface.
D & S Asphalt Sealing Company provides all asphalt paving and maintenance services, including:
Pothole repair
Speed bump installation
Asphalt pavement patching and repairs
Asphalt paving overlays
New parking lot development.
Residential driveway paving, sealing and repairs.
No job is too small or large.
Our paving experts will maximize your asphalt pavement budget with cost effective and well thought out repairs. We will correctly identify the root cause of your pavement failure and specify the most effective solution for your maintenance goals and budget.
ASPHALT SERVICES
Construction/Repair/Maintenance
Removal/Grading
Overlays/Petromat Overlays
Patching/Crack Filling/Pot Hole Repair
Call D & S Asphalt for a free estimate.